Fat and Beautiful - Everything Starts from Within
When You Love Yourself, You Look Your Best
Be well-groomed, clean and fresh all the time. You may be fat if you exude a whiff of refreshing mint or romantic scent, has a glossy-flowing hair, who walks with confidence, sits elegantly and wears a charming smile; you'll be a sweet creature people's eye falls on first. Even the most grouchy guy would not dare hold his eyes off your way.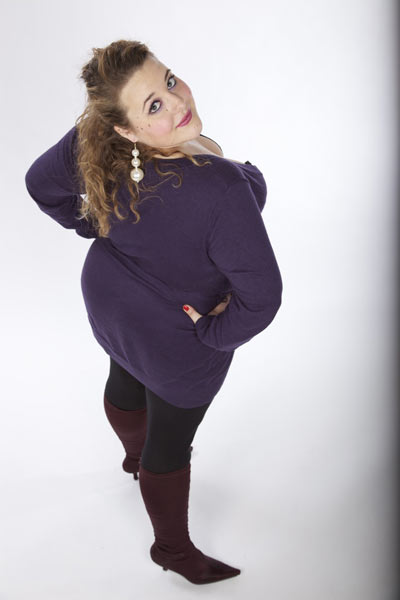 Fashion-wise, any items of clothing look better with curves stretching them out. So you don't feel being sized out of fashionable and practical clothing; this is also where chubby girls have an edge over.
Dress with confidence. Wear body-supporting clothes; what fits you well makes you feel good. There are so many patterns, soft creamy colors, and little accessories to draw the eye away from your flaws. Choose items that you love, it helps. Dress hot yet adorably modest.
Stand and walk gracefully. The way you carry your body can make all the difference in your general appearance. Don't shuffle and barely lift your feet off the ground - instead, walk in a way that doesn't cause your body to bounce up and down very much. Practice by balancing a book on your head.
How you project yourself to the world is how the woman in you going to perceive you to be.
Extra weight or not, beauty is not about perfection, but having something worthwhile to offer, that's the point. Being an interesting person conveys a message of an optimistic mind and heart, it can be a fun and pleasant company, a likeable personality, or somebody who's warm, responsible and affectionate.
Society doesn't know you, no one besides people you've lived with and loved know your personality. Just because you're chubby on the outside doesn't mean your personality is engorged with Twinkies. Even small bodied people also eat just as much as people with larger bodies do.
In today's society, despite the most pretty face and the sexiest curves, a lot people continue fixating on some body parts they wish were larger, smaller, tighter, smoother, or just plain different. While you may feel you are too fat, someone else may be feeling they are underweight. So stop worrying about how other people express inappropriate thoughts about fat people. Accept that you can't change their opinions, or waste so much of your time exploring why they need to make judgments about you instead of being content with their own lives.
Your insecurities being fat may not lie to you, it's understandable. But know that you are unique, one of a kind, and perfect in your own way. Are you going to allow your insecurities to hold you back from living happy? If you only hear a lot of guys say "She's fat yet there's something in her that's irresistibly beautiful", you'd love to know he's thinking about you!
Take a Look
Regardless of being a little extra weight, very curvy, plus-sized, fat, huge, overweight... what else?... think that a certain level of "plumpness" is attractive. Tap into your reserve of confidence and desirability by accepting it, and love yourself for who you are because you deserve to.